Get Essential Oils |
Earn Valuable Perks
Anyone who is interested in ordering doTerra® essential oils or other products directly from me will also benefit from different valuable perks. These perks will vary over time so take advantage of them while they last.
Starting in November 2020, for every order of 100 points you will earn a free Ayurvedic Online Yoga class with me. 
You will have two options to enjoy this perk:
Join my live online Ayurvedic Yoga class that streams on Zoom every Monday between 9.00 am and 10.00 am CST if it works with your schedule.
Get the latest recording of the session if you can't join me at the scheduled time.
There are no limits. If your order is over 200 points you will earn 2 free classes. Order over 300 points earns 3 classes, etc. 
And I make sure you always get your perks. I send monthly reminders to everyone who earns them. Namaste!

You earn points by purchasing doTerra® products, number of points is calculated based on product prices.
Nature's
Healing Power
There are essential oils for just about every ailment or condition. From oils that support sleep, calm the nervous system, help to reduce stress and anxiety, to oils that support digestion - there is something for everyone.
Not just a fad, or the latest trend, essential oils are powerful plant extracts that can be used to promote well-being just as they did centuries ago. Essential oils have gained popularity in recent years because they provide a natural alternative for many everyday tasks. They are safe and effective. Plus, they have unique and beautiful aromas.
Why Use
Essential Oils?
Essential Oils are natural, effective, and safe.
100% natural and safe, no side effects and no addictions
50-70x more powerful than herbs
Extracted from plants with health-giving properties
Essential oils work with the body on a cellular level to address issues and root causes of health problems
Enhance physical and emotional health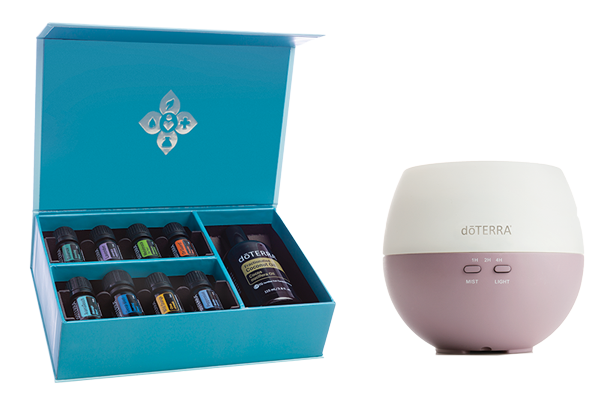 Why choose doTerra®
Essential Oils?
MOST TESTED. MOST TRUSTED.
Certified Pure Therapeutic Grade
Free of fillers, harmful contaminants, and synthetic chemicals
Total Transparency (third-party testing, test results are public)
Sustainable and responsible sourcing, plants harvested in their natural and native habitat
Every purchase directly benefits the farmers
Extensive and thorough testing
Clear and accessible safety and usage information